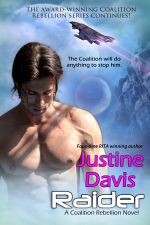 Same evil enemy, a new band of rebels as the award-winning Coalition Rebellion series continues, by reader demand!
RAIDER
The Coalition will do anything to stop him.
In the mist-shrouded world of Ziem, when the people are ready, a hero will rise . . .
A mysterious, battle-scarred warrior known only as the Raider wages war against the Coalition conquerors.
Drake Davorin, a tavern keeper and "first son" of Ziem, has turned away from the resistance to protect his orphaned siblings.
Kye Kalon is a woman caught between them both in her fight to save Ziem.
One man fights for their world. The other for family. One is the commander of the rag-tag group of fighters known as the Sentinels, and the other is the man she loved before the Coalition violently conquered their world.
But Drake Davorin keeps a deadly secret. One wrong decision could destroy all of Ziem . . . unless the Coalition destroys them first.