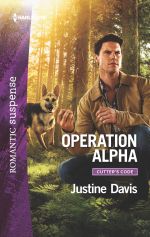 More Cutter, and a special contest!
Publishing is a strange world. I'm excited to have the next Cutter's Code adventure, OPERATION ALPHA coming out in March (as you can see here, great cover, even if we are back to a German Shepherd standing in for Cutter) With the redoubtable Cutter leading Foxworth tracker Liam Burnett right into trouble, and love, Cutter continues his heroics—and his matchmaking ways—in the latest installment about this canny canine.
But at the same time, I'm putting the finishing touches on the next, as yet untitled installment. If you've been reading Cutter's adventures all along you know about this, but if not let me explain: each Cutter's Code adventure has a memorial to a beloved canine companion a reader has lost. These lucky readers are selected through the monthly contest here on my website. If you'd like the chance to have a tribute to your much-missed pup printed in this upcoming Cutter book, watch for the announcement of the contest starting February 1st! If you are the lucky winner, I'll work with you on wording it until we're both happy with the result, and of course you'll get a signed copy of the book when it's released. (It's not scheduled until November, so you'll have to be patient!)
In the mean time, you can still enter right now to win a signed copy of any available title.
And if you missed the rest of the spring news:
I'm thrilled to announce that the fight against the Coalition will continue in April with the release of RAIDER, an exciting new adventure! The rebellion is spreading, and these courageous fighters don't care about the odds. They also find that being willing to die for something just might be outweighed by having something—and someone—to live for.
And yet another March announcement! I'm excited to join with the dynamic team at Tule Publishing Group to go back to the roots of pure romance with my first novel for them, WHISKEY RIVER RESCUE, about a horse rescuer and the mysterious recluse who turns her world upside down, set in fictional Whiskey River, Texas. It's a quirky town with a fascinating history and wonderful characters, created by my friends and fellow writers Eve Gaddy and Kathy Garbera. I'm delighted they let me play in their world, and I hope to settle in for a nice long stay. I mean cowboys (and girls) Texas, and horses, what more could I ask for?