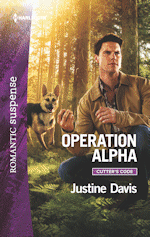 It's been a very busy writing period for me the last sixteen months, and it's all finally coming to fruition! And I've just agreed to do it all over again, so you know I had fun.
Firstly, the brand new Cutter's Code adventure, OPERATION ALPHA will out in eBook on March 1st (7th for print). The story of how that clever, matchmaking canine leads Foxworth tracker Liam Burnett right into trouble, and love, was great fun to write. That dog just keeps getting smarter and smarter! I hope you'll read and enjoy this latest adventure, book number 9 in the Cutter's Code series. And as an aside, this month also marks exactly five years since that furry rascal debuted, and I want to thank all of my readers for their enthusiasm and willingness to accept a dog who may—or may not—be a bit more than "just" a dog.
I also want to announce that March 9th is release day for a brand new venture, book one of a new series for me from Tule Publishing! Set in the fictional Texas town of Whiskey River, (created by my friend Eve Gaddy and Kathy Garbera) WHISKEY RIVER RESCUE is the story of horse rescuer who ends up saving more than her horses when she crashes into the life of Whiskey River's notorious recluse. I'm already hard at work on the next book, and it's been a pleasure working with the energetic Tule crew, and returning to the roots of romance. Romance, Texas, and horses. . .what's not to love?
And there will be more big news next month as my busy spring continues!